Dear bridal couple,
wir freuen uns sehr, dass wir Sie bei der Planung und Umsetzung Ihrer Wünsche
für Ihre Traumhochzeit unterstützen dürfen! Sie haben im RIVO die
Möglichkeit, Ihre Trauung direkt an der Spree durchzuführen.
Für die gemeinsame Planung ist es wichtig, Ihre ganz konkreten Wünsche
zur Umsetzung der Trauung zu kennen. Um Ihnen einen ersten Eindruck zu vermitteln,
finden Sie in unserem Trauungskatalog Impressionen und Informationen
zu Ihrer freien Trauung im RIVO.
Wir freuen uns auf die gemeinsame Umsetzung
Ihrer Hochzeit bei uns im RIVO!
Ihr RIVO-Team
Package contents
Trauung auf der RIVO-Terrasse

Exclusive view of the Spree

Alternative option indoors in case of bad weather (in own event room)

Additional services possible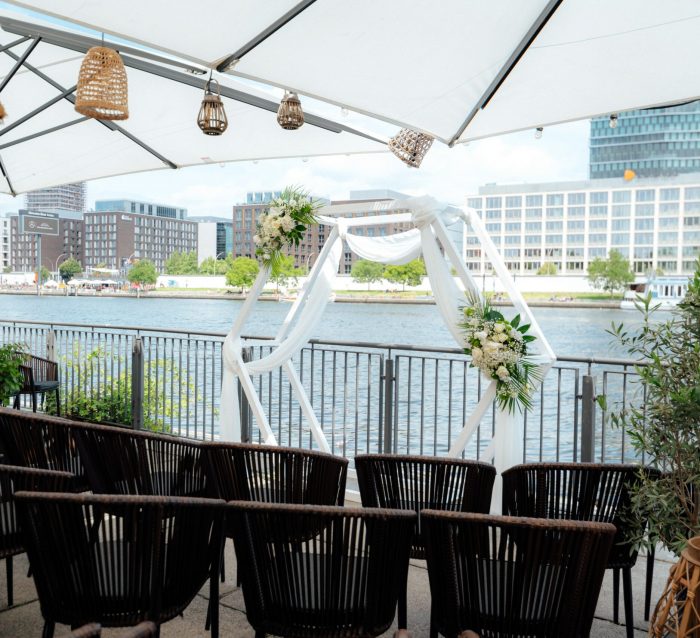 Beste Aussichten und ein fantastisches Eventteam
Unsere RIVO Trauung findet direkt auf der Terrasse an der Spree statt – mit einem exklusiven Blick auf die Oberbaumbrücke und die East Side Gallery.
You have the possibility to book various additional services to make your free wedding ceremony a very special experience.
The following items are already included in your wedding package.
Romantischer Traubogen mit echtem Blumengesteck (dezent)
Trauungsaufbau für 77 Personen, gesetzt (optional mehr)
Music system & radio microphone
You can select the following items in addition to your package at any time according to your wishes.
Additional floral decorations
Additional flower arrangements via our florist partner
Weitere Wünsche? Sprechen Sie uns gerne an!
An welchen Samstagen finden 2023 Eheschließungen statt?
Please note:
In 2022 and probably also in 2023, the Friedrichshain/Kreuzberg registry office will not conduct any civil weddings outside the registry office.
To make an appointment for a civil wedding, please contact the relevant registry office.