Dear bridal couple,
We are very pleased to be able to support you in planning and realising your wishes for your dream wedding! At Spreespeicher you have the option of holding your wedding ceremony both indoors and outdoors directly on the Spree.
For the joint planning, it is important to know your very specific wishes for the realisation of the wedding ceremony. To give you a first impression, you can find impressions and information about your free wedding ceremony in the Spreespeicher in our wedding catalogue.
In the following points we explain which choices are available for the location of your wedding ceremony, what our wedding package contains and which additional services you can choose.
We look forward to realising your wedding together with you at Spreespeicher!
Your Spreespeicher Team
Package contents
Wedding ceremony on the promenade

Exclusive view of the Spree

Alternative option indoors in case of bad weather (in own event room)

Additional services possible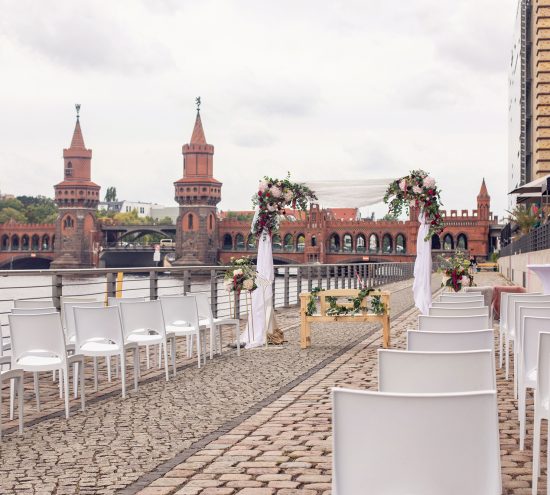 Our Spreeufer wedding ceremony takes place on the lower Spree terrace (riverside promenade) with an exclusive view of the Oberbaumbrücke.
With the outdoor option, there is always the risk of bad weather. If it appears that rain or thunderstorms are possible at the time of the ceremony, we will gladly move the ceremony to your event room. A change from the waterfront to the location can be decided up to four hours before the start of the event.
Here it is important to know: The event room is already closed at this time.
ready built and can no longer be converted.
You have the possibility to book various additional services to make your free wedding ceremony a very special experience.
Package contents
Wedding ceremony in the separate event room

Room reserved and decorated exclusively for you

Access to the Spree Terrace

Outdoor wedding not possible
Our Spreespeicher wedding ceremony takes place in a separate event room in the location. This is directly away from your booked location and also has access to our Spreeterrasse. The room is included in the wedding package and will be prepared accordingly for your ceremony.
A spontaneous change (to outdoor) on the day of the event is no longer possible.
You have the possibility to book various additional services to make your free wedding ceremony a very special experience.
The following items are already included in your wedding package.
Romantic wedding arch with ribbon and flower arrangement (discreet)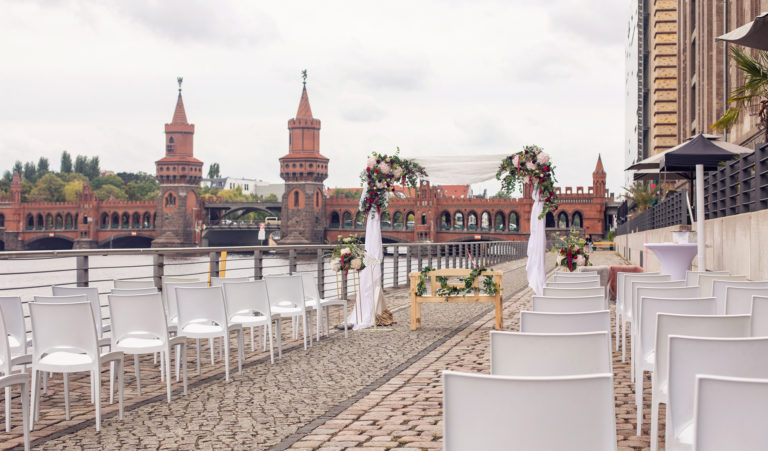 Wedding set-up with "Nice Chairs", Outdoor
max. 65 persons...
...and indoor max. 100 people
Large lanterns for the aisle
Music system & radio microphone
Wedding table with table linen, skirting, pillar candles or tea lights
You can select the following items in addition to your package at any time according to your wishes.
Additional floral decorations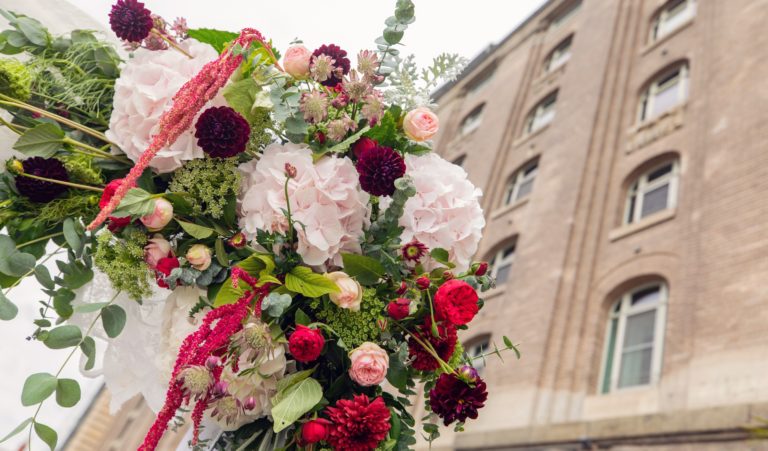 Additional flower arrangements via our florist partner
Fairy lights for arch (Indoor)
On which Saturdays will marriages take place in 2022?
Please note:
In 2022 and probably also in 2023, the Friedrichshain/Kreuzberg registry office will not conduct any civil weddings outside the registry office.
To make an appointment for a civil wedding, please contact the relevant registry office.