Wedding catalogue WHITE Spreelounge
Dear bridal couple,
We are very pleased to be able to support you in planning and realising your wishes for your dream wedding! At the WHITE Spreelounge you have the opportunity to hold your wedding ceremony outdoors directly on the Spree.
For the joint planning, it is important to know your very specific wishes for the realisation of the wedding ceremony. To give you a first impression, you can find impressions and information about your free wedding ceremony in the WHITE Spreelounge in our wedding catalogue.
In the following points we explain which choices are available for the location of your wedding ceremony, what our wedding package contains and which additional services you can choose.
We look forward to realising your wedding together with you at the WHITE Spreelounge!
Your WHITE Spreelounge Team
WHITE Spreelounge WEDDING
Package contents
Wedding ceremony on the terrace

Exclusive view of the Spree

Alternative option indoors in case of bad weather

Additional services possible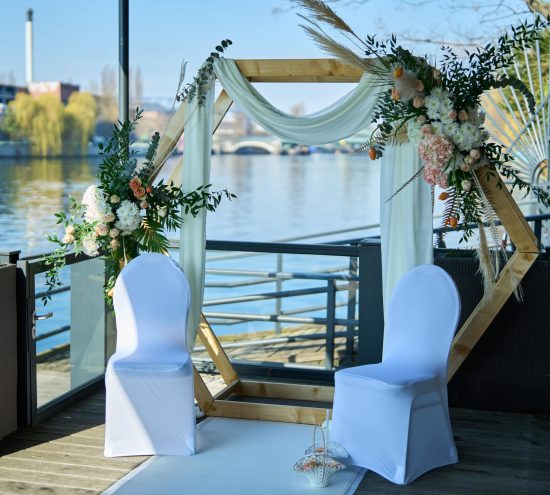 Your WHITE Spreelounge wedding ceremony takes place on our exclusive terrace with a view of the Spree.

With the outdoor option, there is always the risk of bad weather. If it appears that rain or thunderstorms are possible at the time of the ceremony, we will be happy to move your ceremony to your event room. A change from the terrace to the location can be decided up to four hours before the start of the event.
Here it is important to know: The event room is already closed at this time.
ready built and can no longer be converted.
You have the possibility to book various additional services to make your free wedding ceremony a very special experience.
The following items are already included in your wedding package.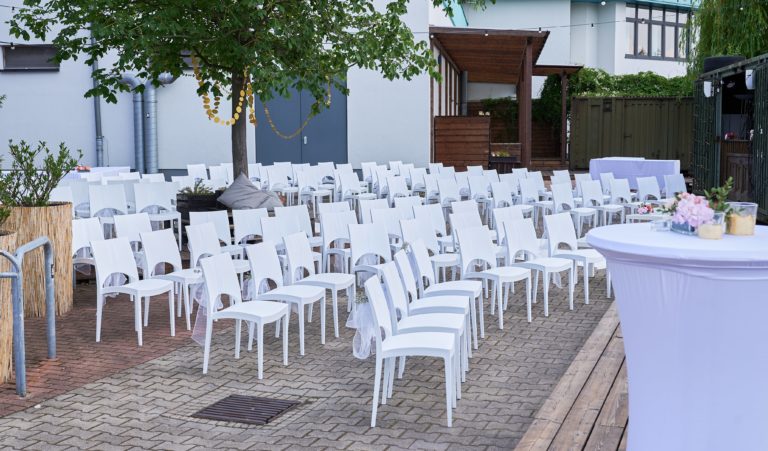 Wedding set up with chairs
& Conversion after the wedding ceremony
Large lanterns for the aisle
Bar table with cover or altar table with table linen for wedding speakers
Artificial Flower Arrangements & Ribbon
You can select the following items in addition to your package at any time according to your wishes.
Additional flower arrangements via our florist partner