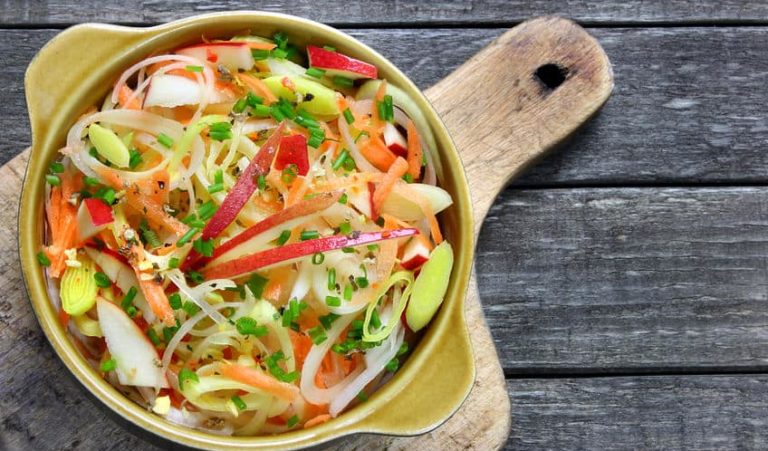 Roasted carrot salad e, e1
with maple juice and roasted almonds
Chickpea salad
with parsley and sun-ripened tomatoes
Thai cucumber salad
with basil, garlic and ginger
Lebanese Couscous Salad i 6, a, a1
with barberries, olives and mint
Kohlrabi carpaccio e, e1, e2
with nut oil and pine nuts
Baked aubergine and tofu salad b, d
with jalapanos and black cumin
Marinated watermelon k 
with raz el hanut and salt lemon
Small Indian Samosas a, a1, j, l
with potato-pumpkin filling
Iced Andalusian Gazpacho i a, a1, l
with sherry vinegar
Would you like a little more?
Additional starters
from the selection (+€2.00 p. person)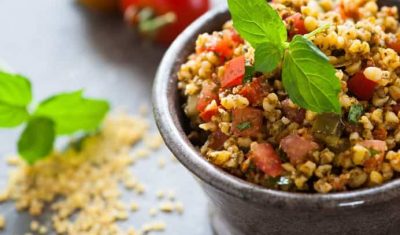 Please choose 5 main courses
Jackfruit burger i a, a1, a4, b, k
with avocado and coriander salsa
Grill sausages a, a1, b, k
with sweet and hot mustard
Aubergine steaks i d
in harissa-sesame marinade
Hot smoked pointed peppers 5, l
with sultana sage relish
Smoked and grilled tofu b
Small jacket potatoes i d
with hummus and baba ganousch
Live roasted Mediterranean vegetables
with stone mushrooms, rosemary and fennel seeds
Creole prepared green peas b, g
with coconut milk and ginger, from the wok
Included in the buffet:
Various spice oils and small bread buffet
Spanish aioli with green olive oil
Mongolian BBQ sauce with roasted sesame and mint
Would you like a little more?
Additional main course
from the selection (+3,50€ p. person)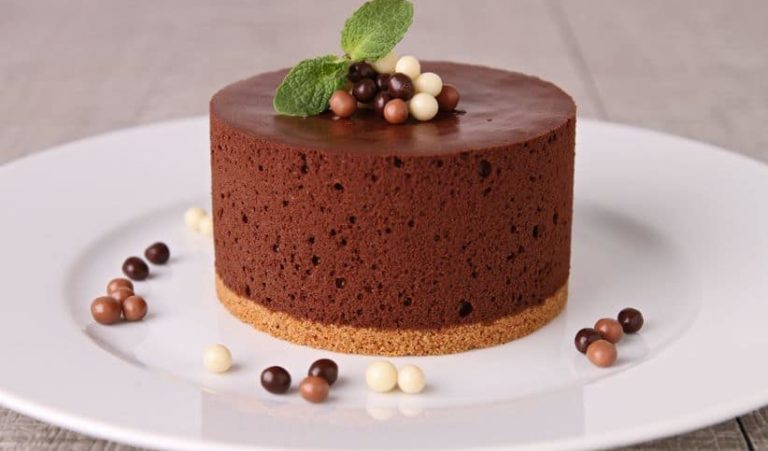 Fresh strawberries
with elderflower sugar and mint
Chocolate mousse
with Aqua Faber
Almond flummery a, a1, e, e1, f, g
with pear ragout
Mangolassi g
Rosemary cherries f, g
with vanilla sauce
Tapioca currant
Would you like a little more?
additional supplement
from the selection (+1,50€ p. person)
including bread selection, crockery, cutlery, staff & equipment
*Prices are subject to change at short notice. As we do not wish to reduce our quality standards in the event of unforeseeable price increases for energy, goods or personnel, the above price may be subject to percentage price adjustments. We endeavour to avoid these adjustments as far as possible.
1                Farbstoff                                    
2                Konservierungsstoff 
2a             Nitritpökelsalz                           
2b             Nitrat                                          
2c              Nitrat und Nitritpökelsalz       
3                Antioxidationsmittel                 
4                Geschmacksverstärker           
5                geschwefelt                               
6                geschwärzt                                
7                gewachst                                    
8                Phosphat                                    
9                Süßungsmittel                           
10              eine Phenylalaninquelle          
11               Koffein                                        
12              Chinin                                         
13              Taurin                                         
14              Milcheiweiß                               
15              Gentechn. veränd. Rohstoff    
16              Alkohol                                       
a Glutenhaltige Getreide
a1 Weizen
a2 Roggen
a3 Gerste
a4 Hafer
a5 Dinkel
a6 Kamut
b Soja / Sojaerzeugnisse
c Erdnüsse / Erdnusserzeugnisse
d Sesam / Sesamerzeugnisse
e Schalenfrüchte
e1 Mandeln
e2 Haselnüsse
e3 Walnüsse
e4 Kaschunüsse
e5 Pecannüsse
e6 Paranüsse
e7 Pistazien
e8 Macadamia (Queenslandnuss)


f Eier / Eierzeugnisse
g Milch / Milcherzeugnisse
h Fisch / Fischerzeugnisse
i Krebstiere / Krebstiererzeugnisse
k Sellerie / Sellerierzeugnisse
j Senf / Senferzeugnisse
l Schwefeldioxid / Sulfite
m Lupine / Lupinenerzeugnisse
n Weichtiere / Weichtiererzeugnisse
f Eier / Eierzeugnisse