A lunch exactly according to your needs!
For your event, you have the option of choosing from various lunch options and putting together your own lunch exactly as it perfectly suits your requirements and ideas.
Choose from four variants:
1 Soup
1 main course
1 dessert
1 soup or salad
2 main courses
2 desserts
1 Salad
1 Soup
2 main courses
2 desserts
1 Salad
1 Soup
2 main courses
1 Wok station
2 desserts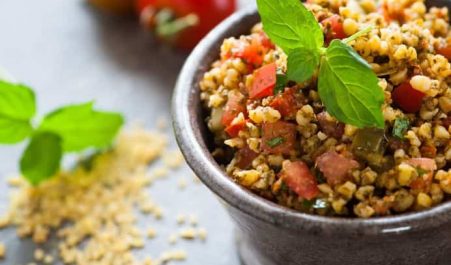 Tomato salad 
with chives and raspberry vinaigrette
Cucumber salad 
with sesame oil and coriander
Feta salad 
with pepper, fennel and olives
Chickpea salad  i
with coarse curry and grated carrots
Pennesalad
with chorizo and grilled vegetables
Chickpeas 
with grapefruit, watercress and mint
Potato salad 
with apples, gherkins and mustard seeds
Couscous salad 
with snake cucumber, datterinos and lime dressing
Biryani rice 
with sultanas and almonds
Small salad buffet 
with leaf salads, toppings and two dressings
Tomato soup 
with croutons and thyme
Cream of cauliflower soup 
with lemon oil and rocket
Cream of potato soup 
with herb croutons
Indian lentil soup 
with coconut milk and baked celery
Chicken bust
with cauliflower au gratin and rosemary potatoes
Poultry roulade
with broccoli and cream noodles
Poultry fricassee
with asparagus pieces, green peas and rice
Red Thai curry
with chicken, bamboo, green beans and jasmine rice
Pollock rolls
filled with vegetables in white wine sauce and wild rice mix
Cod fillets in shrimp-dill sauce
with steamed potatoes
Small pork steaks in rosemary jus
with green beans and mashed potatoes
Roast pork in apple jus
with red cabbage and roast potatoes
Königsberger dumplings in caper sauce
with steamed potatoes
Beef goulash
with fruity paprika and buttered spaetzle
Vegetarian Indian Curry
with lentils, carrots, peas, peanuts and rice 
Vegetarian braised aubergines
with cashew nuts, chickpeas, yoghurt sauce, herb baguette
Baked Hokkaido squash 
with corn and almond milk
Penne
with olives, rocket, Parma ham and Grana Padano cheese
Roasted Mediterranean vegetables 
with thyme, almonds and gnocchi
Fried Asian noodles
with vegetables and small prawns
Fried chicken strips
with bamus, sultanas, yellow curry sauce
and rice
Penne rigate 
with green asparagus, pine nuts and green olive oil
Watermelon salad
with grenadine and mint
Apple pie
With cream
Semolina flummery
with johanis berries
Kirschenmichel
Pear tart
with pistachios
Red fruit jelly
with vanilla sauce
Hint: Prices are subject to change at short notice. As we do not wish to reduce our quality standards in the event of unforeseeable price increases for energy, goods or personnel, the above price may be subject to percentage price adjustments. We endeavour to avoid these adjustments as far as possible.