Hotels in the vicinity of the Spreespeicher
SAVE UP TO 20% ON YOUR BOOKING
The choice of the right event location is often also related to the location. In addition to good transport connections, many hosts also need a suitable hotel nearby for their guests. To make life a little easier for you, we would like to introduce you to the hotels in the vicinity of our locations. Benefit from our negotiated room rates.
THESE ARE THE HOTELS IN THE AREA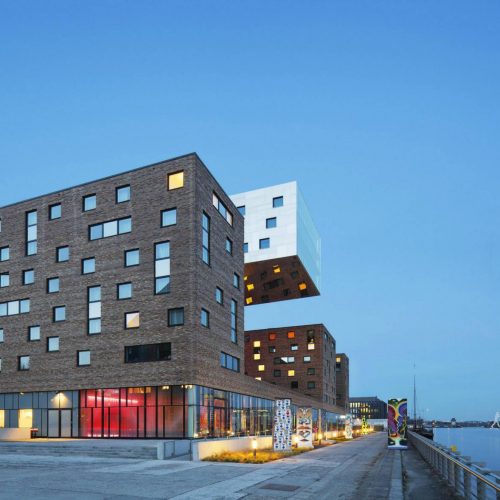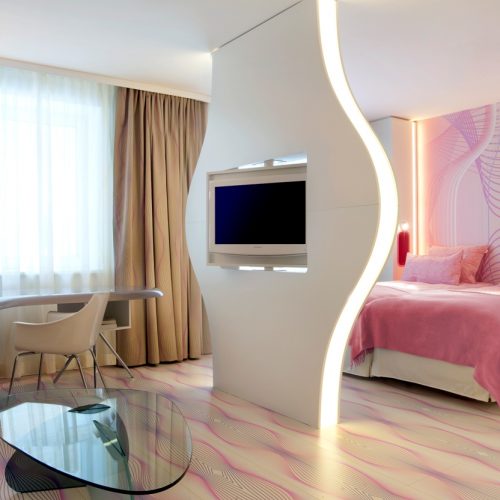 Distance to the location: 50m  
Distance to train station: 500m (Warschauer Straße)
Europe's first music hotel is located directly on the banks of the Spree and right in the epicentre of Berlin's music, fashion and creative scene. None other than the New York designer Karim Rashid has designed the entire interior of the nhow Berlin. His visionary designs form a perfect symbiosis with the realisations of star architect Sergei Tchoban. As a total work of art, the nhow Berlin is a modern architectural and design highlight of the capital. Business travellers, cosmopolitans, international jetsetters and hip bands meet here. What unites them all is their love of music. An in-house music manager, an exclusive guitar room service and a high-end sound studio with a panoramic view over Berlin shout out what is at most whispered elsewhere: Let's rock it!
Entfernung zur Location: 5,5 km
Entfernung zur Haltestelle: 400m (Tram Hohenschönhauser Str.)
Das City Hotel in Berlin bietet 473 moderne und großzügige 29m² große Hotelzimmer. Jedes Zimmer ist mit extra großen Betten ausgestattet, um Ihnen den höchsten Komfort zu bieten. Das Hotel ist sowohl für Geschäftsreisende als auch für Sportbegeisterte ideal geeignet. Genießen Sie die Annehmlichkeiten eines Restaurants und einer Bar, die köstliche Speisen und eine entspannte Atmosphäre bieten. Darüber hinaus steht Ihnen ein praktischer Grab, Scan & Go Kiosk zur Verfügung, der es Ihnen ermöglicht, bequem jederzeit kleine Einkäufe zu erledigen. Dank seiner zentralen und verkehrsgünstigen Lage ist das Hotel der perfekte Ausgangspunkt, um die Sehenswürdigkeiten und Attraktionen Berlins zu erkunden. Wir laden Sie herzlich ein, Ihren Aufenthalt bei uns zu genießen.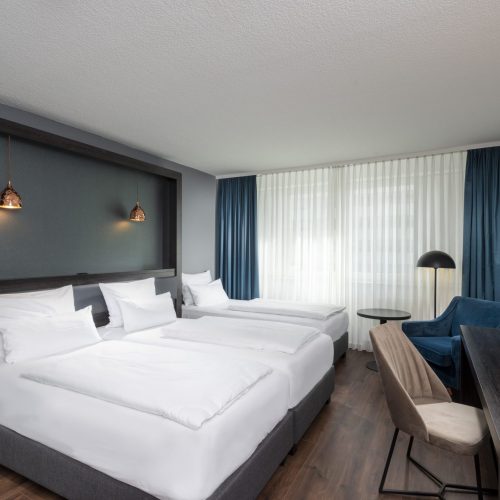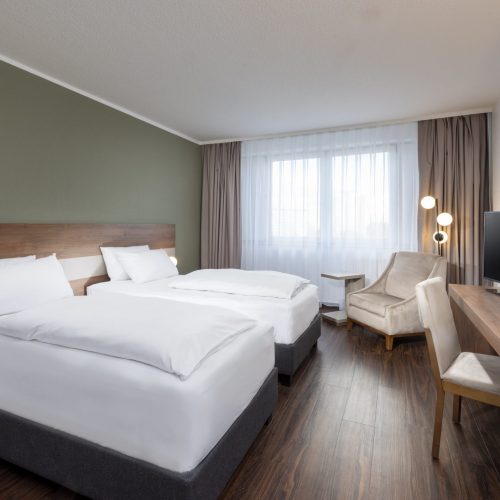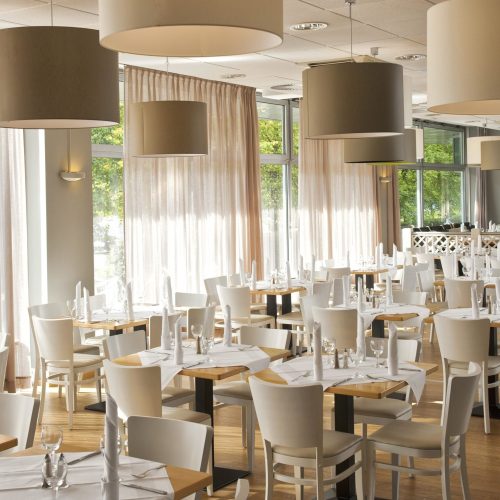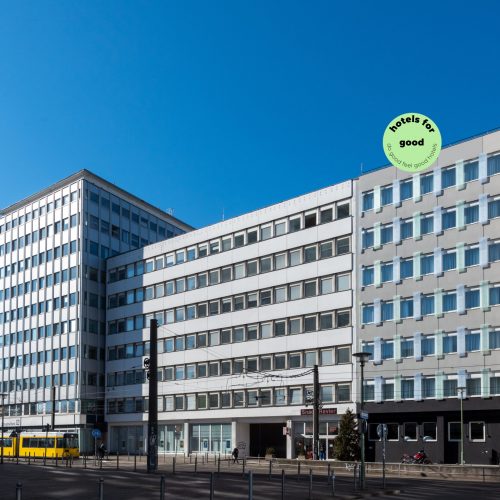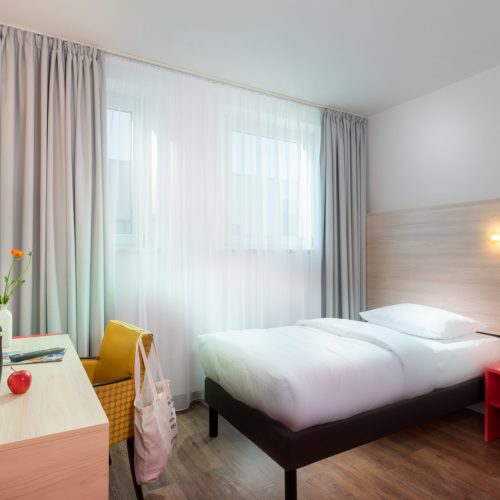 GREET HOTEL ALEXANDERPLATZ
Entfernung zur Location: 4,8 km
Entfernung zur Haltestelle: 550m (Berlin Alexanderplatz Bahnhof)
Das greet Hotel Berlin befindet sich im Herzen von Berlin und bietet moderne, frisch renovierte Zimmer sowie ein umweltfreundliches Erlebnis mit lokalem Flair. Egal, ob Sie geschäftlich oder privat reisen, das Hotel hat einiges zu bieten, um Ihren Aufenthalt unvergesslich zu machen.
Mit insgesamt 61 klimatisierten Gästezimmern gibt es eine Vielzahl an Auswahlmöglichkeiten, die umweltfreundlich gestaltet sind und viel natürliches Tageslicht bieten. Darüber hinaus werden 12 Familienzimmer angeboten, um den Bedürfnissen von größeren Gruppen gerecht zu werden.
Eine Besonderheit des Greet Hotel Berlin sind die stilvollen Accessoires aus zweiter Hand, die in den Zimmern verwendet werden und ihnen einen authentischen Touch verleihen. Durch die Verwendung wiederverwerteter Gegenstände wird ein Beitrag zum Umweltschutz geleistet und Ihnen ein nachhaltiges und authentisches Erlebnis geboten.
Ein weiteres Annehmlichkeit ist die kostenlose WiFi-Nutzung, die in allen Zimmern verfügbar ist. Der Gemeinschaftsbereich ist offen gestaltet und bietet eine gemütliche Lounge, ein Bistro für köstliche Speisen und Getränke sowie einen 24/7 Mini-Markt. Hier finden Sie alles, was Sie benötigen, um Ihren Aufenthalt noch angenehmer zu gestalten.
VIENNA HOUSE ANDEL'S BERLIN
Distance to the location: 3 km
Distance to train station: 50m (S Landsberger Allee)
Vienna House Andel's stands for the contrasts of Berlin: design & lifestyle, star cuisine & trendy bar, event location & retreat. Located in the melting pot of Friedrichshain, Kreuzberg and not far from Alexanderplatz, the 4-star superior design hotel promises modern style, fresh charm and professional simplicity.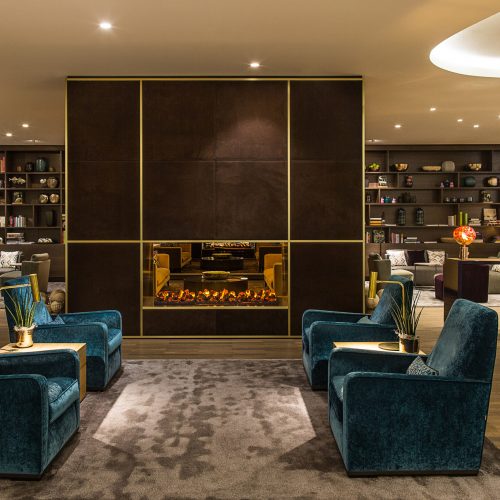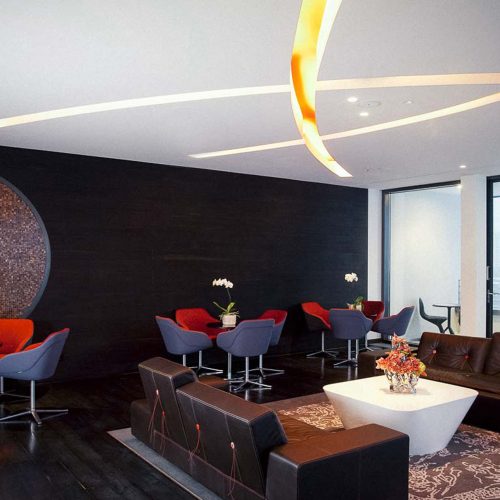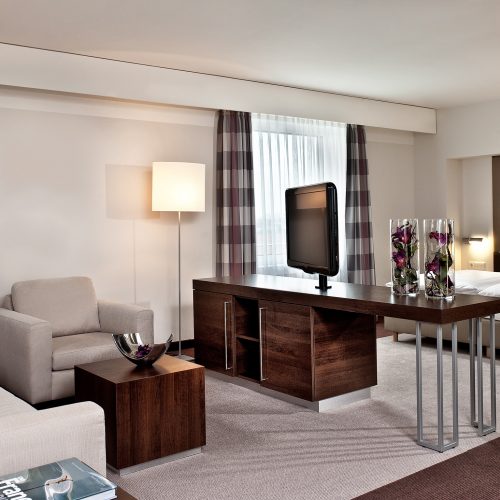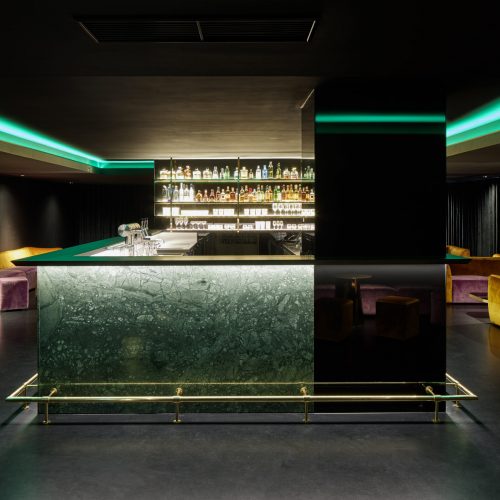 Entfernung zur Location: 4,4 km
Entfernung zum Bahnhof: 400m (Bahnhof S-Sonnenallee)
Das Estrel Berlin befindet sich im Bezirk Neukölln und ist etwa 22 Autominuten vom Flughafen Berlin Brandenburg entfernt. Mit mehr als 2000 Betten in 1125 Zimmern ist es Deutschlands größtes Hotel. Die günstige Lage des Hotels lädt Sie dazu ein, nach einem langen Tag auf den Beinen, noch im hauseigenen Restaurant das Grillangebot internationaler Speisen zu genießen und sich direkt im Anschluss entspannt ins eigene Zimmer zurückzuziehen. Und wenn Sie den Tag noch etwas länger ausklingen lassen möchten, wartet auf Sie in der eindrucksvollen Atriumbar eine umfangreiche Auswahl an erlesenen Getränken.
Den Morgen beginnen Sie im Estrel perfekt erholt mit einem leckeren und reichhaltigen Frühstück, bei dem Sie sich nach Lust und Appetit am großen und umfangreichen Buffet bedienen können. Im Anschluss können Sie sich direkt ins Berliner Getümmel werfen, denn der Bahnhof S-Sonnenallee ist in maximal 5 Gehminuten erreichbar, sodass Sie schnell und bequem an Ihr nächstes Ziel gelangen können.
Nhow Hotel Berlin
nhow Berlin, Stralauer Allee 3, 10245 Berlin, Germany
City Hotel Berlin East
Landsberger Allee 203, 13055 Berlin, Deutschland
Greet Berlin Alexanderplatz 
Bernhard Weiss Straße 8, 10178 Berlin, Deutschland
Vienna House Andel's Berlin
Landsberger Allee 106, Berlin, Germany
Estrel Berlin
 Sonnenallee 225, 12057 Berlin, Deutschland
Spreespeicher Berlin
Stralauer Allee 2, 10245 Berlin, Germany
Greet Berlin Alexanderplatz
Vienna House Andel's Berlin
BOOKING LINKS FOR SINGLE BOOKINGS (1 TO 9 ROOMS)
Please click on the individual hotels of your choice to benefit from our partner discounts. to save up to 20%.
REQUEST FOR GROUP RESERVATIONS (FROM 10 ROOMS)
Please click on the individual hotels of your choice to benefit from our partner discounts. to save up to 20%.